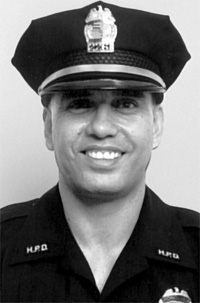 Officer Eric C. Fontes
Assignment: Patrol District 8
Date of Birth: August 26, 1966
Appointment Date: August 2, 2004
End of Watch: September 13, 2011

Officer Eric Fontes was struck and killed by an automobile while conducting a traffic stop with other officers on Farrington Highway at about 10:30 pm.

The stopped vehicle was located along the median in the left hand lane. Another car entered the scene and struck one of the patrol cars, Officer Fontes, and a second officer.

Officer Fontes succumbed to injuries while being transported to a local hospital. The other injured officer was transported in critical condition.

The driver who struck Officer Fontes was arrested and charged with negligent homicide and other charges.

Officer Fontes served with the Honolulu Police Department for seven years. He is survived by his wife, children, and grandchildren.