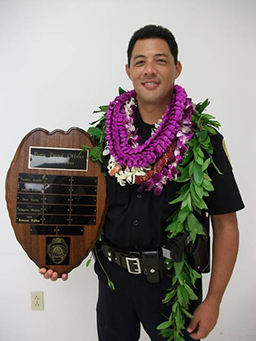 Bronson K. Kaliloa
Assignment:
Date of Birth:
Appointment Date:
End of Watch: July 18, 2018
Police Officer Bronson Kaliloa was shot and fatally wounded at approximately 9:30 pm as he and other officers conducted a high-risk traffic stop of a wanted subject on Highway 11, in the area of Kukui Camp Road, in Mountain View.
As officers approached the vehicle the wanted subject exited and opened fire with a handgun, striking Officer Bronson in the neck and leg. Other officers returned fire as the subject fled into a dense area of brush along the roadside.
Officer Kaliloa was transported to a local hospital where he succumbed to his wounds shortly after midnight.
Officer Kaliloa had served with the Hawaii County Police Department for 10 years. He is survived by his wife and three young children.