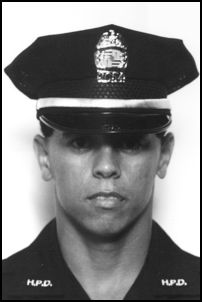 Officer Tate D. Kahakai
Assignment: Specialized Services Division
Date of Birth: December 1, 1960
Appointment Date: May 18, 1989
End of Watch: July 21, 1995

On July 21, 1995 a collaborative search involving the Honolulu Fire Department and Honolulu Police Department was underway in the Sacred Falls Valley area searching for a missing hiker.

Officers Tate Kahakai and Bryant Bayne were assigned to the Specialized Services Division Task Group. They were part of the search team to be suspended in a basket by a Honolulu Fire Department helicopter into the valley. While in transport near the search site the aircraft lost control and crashed into a steep slope.

Both Officers Kahakai and Bayne and HFD helicopter pilot Peter Crown were killed in the crash.