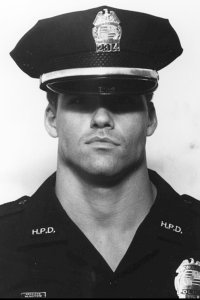 Officer Troy Barboza
Assignment: Patrol District 1
Date of Birth: October 12, 1963
Appointment Date: January 30, 1986
End of Watch: October 22, 1987

Officer Troy Barboza was shot to death on October 22, 1987 in his home. The culprit was a suspect previously arrested and charged as the result of an undercover narcotic investigation conducted by Officer Barboza.

The suspect was identified through an extensive HPD investigation and was identified, arrested, and convicted for the death of Officer Barboza. The suspect is currently serving a mandatory life sentence.