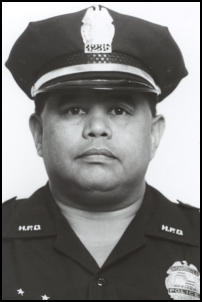 Officer Dannygriggs Padayao
Assignment: Patrol District 4
Date of Birth: March 7, 1955
Appointment Date: November 18, 1982
End of Watch: April 30, 2001

Officer Dannygriggs Padayao was born in Laupahoehoe, Hawaii.

On Monday, April 30th, 2001, at about 1025 p.m., Officer Padayao was on Kamehameha Highway investigating a two-car accident and setting flares when he was hit by an impaired driver. The driver then fled the scene.

Officer Padayao was taken to the Castle Medical Center in critical condition, where he later died from his injuries.

The driver was later apprehended at his home and arrested on suspicion of driving under the influence of alcohol, first degree negligent homicide, and failure to give information and render aid.