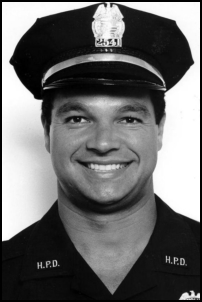 Sergeant Harry J. Coelho
Assignment: Records and ID Division
Date of Birth: June 28, 1958
Appointment Date: August 27, 1985
End of Watch: May 20, 2007

Sergeant Coelho was born in Honolulu. He graduated from McKinley High School and Linfield College before joining the Honolulu Police Department in 1985.

On May 20, 2007, while off-duty attending an outdoor church service held at Haleiwa Beach Park, Sergeant Coelho observed two males involved in a physical confrontation. With no hesitation he immediately stepped into the middle of the confrontation identified himself as a police officer and called for back up as he attempted to separate the males.

While attempting to break up the confrontation to protect others in the area, Sergeant Coelho suffered a heart attack. He was given medical attention at the scene and later died at Wahiawa General Hospital.