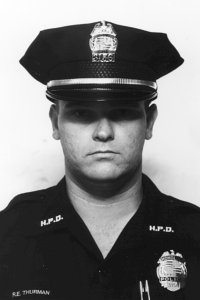 Officer Roy E. Thurman
Assignment: Traffic Division, Solo Bike
Date of Birth: December 12, 1954
Appointment Date: December 15, 1983
End of Watch: October 20, 1990

On October 20, 1990, Officer Roy E. Thurman was traveling on Kalanianaole Hwy. fronting Koko Marina Shopping Center when a vehicle suddenly turned into his lane. Officer Thurman maneuvered away from the vehicle causing him to collide with the adjacent guardrail. Officer Thurman was seriously injured as a result of the collision and was rushed for treatment at a medical facility where he later died from his injuries.